What are NetEnt Power Pots
One of the most prestigious pioneer software developers for online casinos is NetEnt, the same company that's behind classic fruit machine-inspired slots Sweet Honey Fruity and Starburst. NetEnt has produced some exceptional NetEnt Slot Games over the years and more recently, games like Gonzo's Quest, Mega Fortune and Blood Suckers took the online casino world by storm. Now, NetEnt has once again introduced a revolutionary new concept, a jackpot system called Starburst Power Pots. It's based on a very simple principle, as you play the slots, you collect tokens that go towards a community pot. Keep playing and collecting token and fill up the progress bar until it produces a community jackpot prize. If you love playing NetEnt slots, Starburst Power Pots is something you most certainly will be interested in. Named after one of their most loved products of all time, the slot game Starburst, NetEnt has introduced another winner.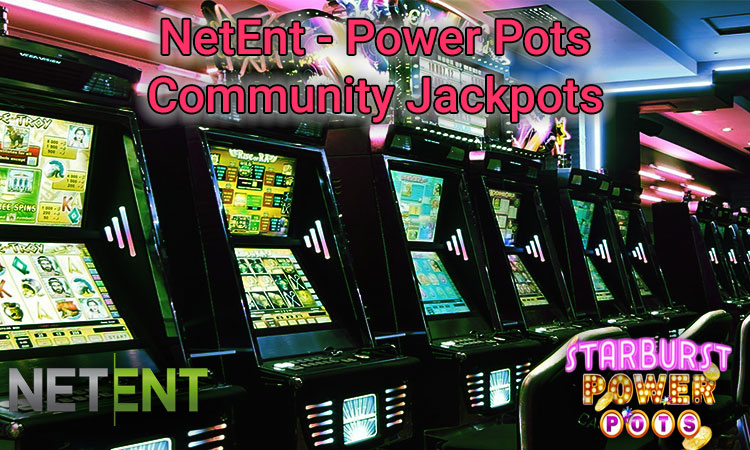 When it comes to Progressive Jackpot prizes, three levels will trigger a jackpot payout:
The first level happens at an online casino. You play a jackpot game until one lucky player gets the prize, and it could be you.
Networked casinos, on the other hand, connect their jackpot games across several casinos and the winners can be from anywhere in the world.
A Starburst Power Pots community jackpot system is one where NetEnt connects a few popular games across all their casinos.
As with some other jackpot networked games, players contribute to the pool by playing, but what NetEnt have added is the ability for players to win from the pool, even if they aren't online when the jackpot hits. There are already some games networked at NetEnt Casinos and it is expected that by the end of 2020, there will be 20 games available in NetEnt's Starburst Power Pots jackpot system. To find out all about Starburst, make sure you read our detailed and very informative Starburst Review.
You may be wondering how you can win a prize even when you're offline, it's simple. In one of the most exciting features about the Starburst Power Pots, if you've been playing a particular jackpot game and have won Starburst Tokens that contributed to building the pot, you're still entitled to a share of it when it pays out. With regular progressive jackpot games, if you're not playing and the jackpot pays, you won't see any of the prize money, no matter how much you've contributed to the game. With Starburst Power Pots, if the jackpot pays, an amount proportional to your gaming time will be waiting for you in your account when you log back in.
Top NetEnt Casino Where You Can Join Starburst Power Pots
Find the very exciting new NetEnt Starburst Power Pots at NetEnt Casinos. Browse through our top NetEnt Casinos and start playing this revolutionary new way to hit the jackpot prize even while you're sleeping. When you find a casino that appeals to you, click on it and head over there by following our links. Once there, register a new player account in a few easy steps and when your account is verified, make your minimum deposit at the cashier and you're ready to start playing.
Since NetEnt came online, they have always offered players across the world an immeasurable gaming experience. When you play at a NetEnt Casinos, you will be playing at an online casino that's always at the forefront of delivering the safest and fairest casino experience. As a leading game provider, NetEnt has won a varied selection of prestigious awards including Casino Platform Supplier of the Year, Mobile Supplier of the Year and RNG Casino Supplier of the Year. NetEnt Casinos stand out from the rest because they provide the best visual quality games that come packed with excellent audio effects. Check out our Best NetEnt Casinos and start playing Starburst Power Pots today, you'll be glad you did!
Who Is NetEnt?
NetEnt was founded in 1996, back when the internet started. NetEnt, short for Net Entertainment has grown into one of the most important games developers, serving the world's top-quality online casinos with a huge range of impressive games. But did you know that NetEnt was once Cherry Casino? NetEnt's forefathers founded a gambling business in the 1960s that would eventually go on to become Cherry, one of the very first online casinos. NetEnt came about when one of the founder's sons decided to establish an online casino with a particular focus on developing innovative casino games. Cherry became NetEnt and today the massive software developer is listed on the stock exchange in Sweden and produces games for desktop, tablet and mobile casinos with some of the biggest Progressive Jackpots in the world.
By 2016, NetEnt began capitalizing on the emerging mobile gaming trend and more recently, NetEnt announced a slew of partnerships and new branded video slot games. Street Fighter II: The World Warrior and Gordon Ramsey Hell's Kitchen are two new recently released slot games. As NetEnt keeps its position as one of the most innovative, forward-thinking software companies in the industry, their pole position seems set to guaranteed for decades to come.
Today, Swedish company, NetEnt is one of most famous gaming software providers in the world, with hundreds of online gaming titles to its name. Their portfolio is made up of slots, table games, a Live Dealer Casino games and now, a top Progressive Jackpot game. NetEnt's games all have a style that's easy to recognize. The slot games are of the best quality possible, they're unique with amazing sound effects and excellent visuals and animations. NetEnt Casinos offer lucrative Welcome Bonuses, Free Spins offers and plenty of innovative and creative promotional offers.